Bid Wizard
Cross reference competitive pricing on
up to 64,000 items with Bid Wizard.
Bring the best bid to the table.
Cross-reference competitor's pricing with item-by-item information to craft the perfect bid and win more business. Upload an Excel file with up to 64,000 item entries to compare with the competition. Review retail and contract prices for the nationals' entire product portfolios, local and state government contracts, and transform this information into a smart and profitable approach to each quote, bid, and contract.
Craft contracts that make you and your customers happy.
Watch the Bid Wizard tutorial: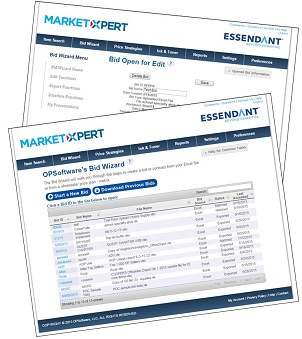 Testimonials
"Without Market Expert we wouldn't be able to price our products, plain and simple!"
Abe Hollender TonerQuest Office-Supply
"Market Xpert, and especially the Bid Wizard, now puts us in the driver's seat when it comes to competing against the Big Box stores. The information is accurate and updated regularly. It's a fantastic tool... every independent dealer should use it."
Jim Ellis, I Sales & Contract Support Analyst Officewise Furniture & Supply
I used the Market Xpert today to quote a Staples order and it worked great!! Very helpful! And we got the order!
Paula Leigh, Preferred Office Products